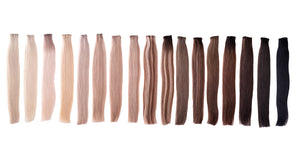 Sax & Ro Hair process

We ethically source our hair from countries in Eastern Asia, in which women are compensated fairly in exchange for their hair. Afterward, the factory grades the raw hair, which is double drawn and undergoes a rigorous sorting process to assure the highest quality hair is used for Sax & Ro extensions.

Once the hair has been sorted, the raw hair is double drawn, a process in which the shorter hairs are removed by hand to ensure even fullness throughout the entire length of the hair.
Next, the double drawn hair is washed and thoroughly disinfected without the use of any added silicon or other chemical additives. This ensures healthy, smooth hair that doesn't tangle or pull.   

Once the hair has been carefully rinsed, the coloring process involves meticulously pigmenting the hair. Each individual color undergoes a unique dying process to assure consistent quality across the board. Lighter colors require a slightly more intricate coloring process, which is reflected in pricing. 

Sax & Ro is committed to employing skilled workers devoted to providing outstanding results. Our fastidious dying process results in radiant, long lasting colors that do not wash out or fade when shampooed.

Finally, the hand tied method is used to create each weft. This is an entirely manual process, which takes about an hour and a half to tie a ten inch weft. Full time skilled workers can produce about six wefts per work day. This method requires immense attention to detail which protects the integrity of the hair. This may take longer than other methods, but the results speak for themselves.